Well, y'all.
Unquickened is done.
As in, DONE done.
As in–I finally finished futzing with the damn thing and sent it to my designer for layout, and now it is HANDS OFF until I read through the proof copy, and then I'm only allowed to change typos and grammatical errors and pray to God I don't find any major plot holes, character flaws, or timeline issues.
So now the Muse is telling me to just KEEP MY GRUBBY PAWS OFF it and ignore the editor who would still like to just tweak one more thing…
How do I feel?
In all honesty, I don't know.
I finished the last major round of revisions a couple of weeks ago, but I knew it wasn't done. I tweaked a few more things, then a few more, then a couple more. Every time I tweaked something, I let it sit for a while–at least a couple of days–to see if I thought of anything else. I finally made the last two or three tweaks last week and sent it off on Friday.
Now I'm trying not to panic.
Here's the thing: I still don't know if it's done.
No, that's not it… If I define "done" as "I can live with it as is," then yes, it's done. To my knowledge, there's nothing egregiously bad about it, and as far as I can tell, I didn't make any major mistakes to my own timelines or continuity.
Maybe what I really mean is "I don't know if it's good enough for other people to read."
Yes. I think that's exactly what I mean.
The Struggle
I mentioned in a previous post that I have been reading non-fiction books this year. I've basically been alternating between fiction and non-fiction, in part because of this non-fiction book club I'm in. As part of that endeavor, I read Think Again, by Adam Grant, earlier this year. The whole book is really pretty good, and it caused me to "think again" about a lot of things–including imposter syndrome.
I don't think there's a writer worth reading who doesn't struggle with imposter syndrome at some point. We all seem to wonder the same things–"Is this any good? How would I know if it wasn't? Who am I to think my stories are good? Why would I put myself in the ranks of people like (insert favorite author here) and assume people would read my crap?"
I think these questions are especially hard for self-published authors, because we don't really have any "objective" stamp of approval on our work. I did have an agent for a while, but no one wanted Ravenmarked, and we parted ways. What does that tell me about my work? I was "good enough" to get an agent, but not good enough to get a publishing deal. And since she edited the book to pitch it, did her suggestions help or hurt? If they helped and I still couldn't get a deal, now that she's NOT editing my work, am I publishing crap?
And on it goes…
Revisiting Imposter Syndrome
So back to Think Again…
Adam Grant takes a different approach to imposter syndrome. He shares stories and studies to suggest three upsides to feeling like an imposter:
It can motivate us to work harder.
It can motivate us to work smarter.
It can make us better learners.
Work harder? I've certainly done that with this book. And I've done that with commercial writing for years now.
Work smarter? Hm, I don't know about that one. I feel like I have not been very efficient with finishing Unquickened, and I've burned myself out on promotion, so let me just revisit that one later.
Make me a better learner? Yes, definitely. I've read more about writing and creativity this year, and I've taken a lot of it to heart. I've done courses for commercial writing over the past few years, submitted a lot more stuff to other editors, and tried to learn from the feedback I get so that I can be better the next time around.
Grant says the opposite of imposter syndrome is "Armchair Quarterback Syndrome"–otherwise known as the Dunning-Kruger effect. We all know people who have an inflated impression of their own competence. Grant puts this Armchair Quarterback Syndrome and Imposter Syndrome on a graph with the horizontal axis measuring competence and the vertical axis measuring confidence. Not surprisingly, armchair quarterbacks have high confidence, low competence, and those with imposter syndrome have low confidence, high competence.
We all know that part of the equation. What Grant does is suggest a sweet spot–somewhere with a reasonable degree of confidence over a moderate to high level of competence. He calls this the "Confident Humility Zone."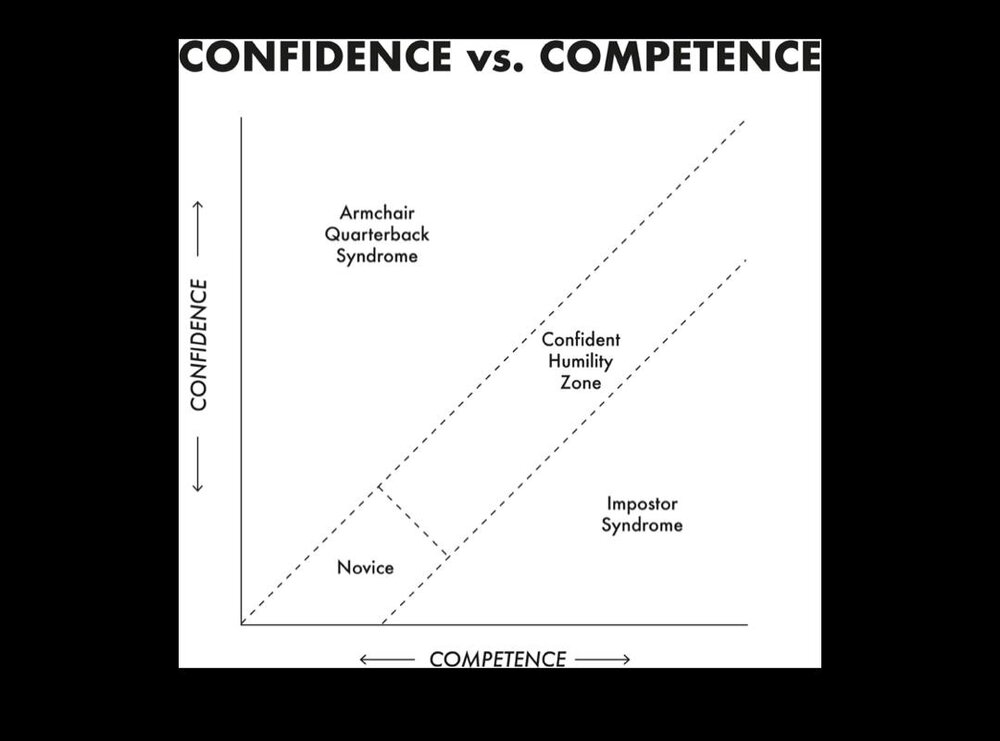 The question for me is–am I in that zone yet?
Confident Humility
When I start listening to the imposter demons, it's time for me to back up and take stock a little.
What do I know about my writing?
Stephen King says the first million words are crap. Based on the word counts of my novels, novellas, short stories, and published essays alone, after all the rewriting and editing that they've endured, I passed a million words a long time ago. Then factor in the volume of words I've written for clients since 2004, and yeah, I think it's safe to say I've written far more than a million words.
My clients keep paying me. They don't have to–they can quietly walk away from my work, or they can say it's not quite right, or they can tell me flat out that what I write is awful–and that doesn't happen. In fact, I typically get the opposite reaction to work I turn in–lots of compliments and more work. I get edited, of course, and I integrate feedback and change things, and sometimes other people change things, but I still get compliments and more work.
People can say my stories aren't quite what they like, or that there's too much Jesus or dialogue, or there's not enough setting, or maybe I created a plot hole, or my characters are poorly developed, but they can never say that I haven't worked my ass off to write these stories. I pour a lot–a lot–of time into my work. That much time has to translate into something at least moderately good.
I get profoundly nervous when I publish anything. I was listening to a podcast recently where two women who appear regularly in public or on TV were discussing how they still feel nervous when they get up to do their jobs, even after many years. They agreed that being nervous can be a good thing–it means you want to excel at what you do. Well, if I can judge my writing by my nerves, then I think it's fair to say I must be doing something well.
When I look at the things I know–the things that are somewhat objective–I feel a lot less like an imposter and a lot more like someone who might be a decent writer.
The Final Verdict
So, given all of that… here are the questions I need to process:
Have other people read the book and given me feedback that I've processed and integrated? Yes.
Can I live with the book as it is right now? Barring the discovery of any major errors, yes, I can live with it.
Have I left nothing on the field? Have I poured everything I have–every ounce of creativity that was dedicated to this book–into this story? I can honestly answer "yes" to this one. I have nothing left for this book. I am only looking forward to the next one.
At that point, whether it's "good" or "worth reading" or "brilliant" or "complete schlock" is entirely up to readers.
I will learn from this experience, I know. I'm already thinking of ways to improve my process on Soultainted, including NOT killing myself with promotion and preserving my energy and sanity for the story.
But for now–for Unquickened–I'm done.
And maybe now that I think about it?
It feels pretty good.