Chuck Yeager passed away earlier this week.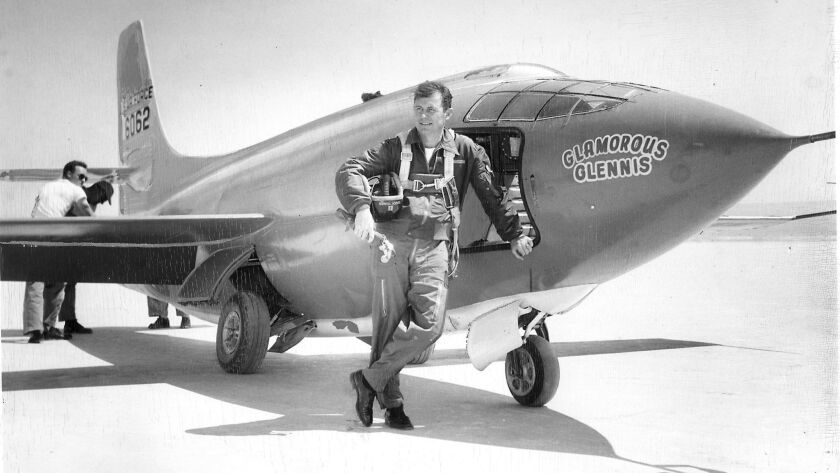 I don't know when I first really became aware of General Yeager's name, but I have vague memories of "sonic booms" over our house in rural Oregon. I may just be remembering loud airplanes–I don't know. Either way, I remember playing outside and feeling the fear and awe of a massive sound from the sky.
I never really wanted to be a pilot, exactly, but I did want to be an astronaut. Somehow, I never connected that I'd have to learn to fly an airplane in order to fly a rocket. Kids often don't make those connections, I suppose. I just knew that I wanted to venture into space.
Like most kids, I've had my share of big dreams and goals. I wanted to be, at various times, an astronaut, an astronomer, a paleontologist, an investigative journalist, a private detective, and a missionary. Those various professions have varying degrees of risk attached to them, but in my head, I usually ended up in some kind of perilous position.
Maybe that's why I became an author.
The Storytelling Gene
I could say a lot of things about why I never pursued those various professions. While some people in my life discouraged me from those pursuits, I think it's more likely that I was always destined to write stories. When I was a kid, I wrote them mostly in my head, and because my life experience and contacts were limited, I created adventure around my own imaginary future. It wasn't the work of those professions that interested me, really. It was the stories.
I think it comes down to the storytelling gene. My dad has it, too. So did his mom. So does my oldest child. The storytelling gene can't resist a good adventure. In the absence of an actual adventure, it will make one up.
As an adult, I live a fairly mundane life. I am not bemoaning my existence; I mean, comparatively speaking, I have it pretty good. There are things that could be better, and I have regrets and griefs and broken places, but those things just make me human. I live in a suburban neighborhood with a husband of nearly 30 years, in an age when the accumulated knowledge of human history is available via a device I hold in my hand. My kids are reasonably healthy. I have interesting work as a freelancer. My house is a mess. The animals keep me busy opening and closing doors. Our cars run.
It's all a fairly mundane, normal American life.
So maybe it's time to introduce a little risk.
Embracing Risk
Our entire culture is structured for safety. From car seats to elbow pads to tracking apps on smart phones, we wrap our kids in safety bubbles to protect them from even the smallest risk. These days, people of all political and religious stripes often don't even want to be exposed to ideas they disagree with. Heaven forbid we should ever be uncomfortable!
I am not suggesting we throw all caution to the wind and start taking unnecessary risks. I wear my seatbelt, avoid running outside in the dark, and wash my hands frequently. We lock the front door when we're home and change the batteries in the smoke detectors (mostly) on time. And I certainly try to be kind and polite to people who don't share my opinions or worldview.
But there is definitely room for us–for me–to introduce a little discomfort into my world.
And for me–for someone who is still actively parenting and possesses a storytelling gene and is too old to become a test pilot or astronaut–that discomfort, that risk, comes in the form of pushing this author thing like it's a "real" job.
Upping the Ante
In some ways, I've already taken the big risk of publishing stories and allowing the entire world an opportunity to see into my head. However, as most of you know, I have always maintained a love/hate relationship with this side of myself. I've published, pushed, retreated, peeked out, retreated even further, unpublished, republished, and settled, in roughly that order.
And here we are, with me squeezing in time for writing here and there and not really owning any of it.
It's time to own it.
I finally took the plunge and hired a marketing consultant and web developer to help me get my marketing off its ass. She has been hard at work on a brand new website that is going to have some great stuff for my audience. We are working together to come up with a variety of campaigns, and I'm developing an editorial calendar based on what I can reasonably publish over the next year.
I won't be able to be a full-time author yet, because I still need to earn a living. I'll be balancing the fiction writing with the commercial writing, but the goal is to push my fiction writing to the point where I can earn a full-time income from it and focus only on writing fiction. I don't know if that's possible, but I do know that it won't happen if I don't take the risk.
The new website should be live soon, and I will have an update and publication date of Unquickened by the end of the year. In the meantime, I need your help.
Help Me Out?
I want to know what you want from me.
Below is a survey link. Would you mind taking about three minutes or so to give me your feedback? I've included a spot for you to submit your e-mail address. I promise not to spam you. You might get two or three e-mails per month, and I swear to never sell your e-mail address. But if you sign up for my e-mail list, you'll be in the know when new books come out or when I have special offers.
This part of my journey isn't exactly the same as flying a tin can so fast that it breaks the sound barrier for the first time in human history. It's not even as risky as starting a new company or changing careers in mid-life. I mean, no one is dependent on my income, and it's not like I'm leaving all of my other work behind.
But for me, this risk feels a lot like strapping into a rocket and aiming for the moon.
So here I go. I'll write out my plans and my editorial calendar. I'll redouble my efforts to write, edit, and publish more fiction more often. And I'll commit to engaging my audience more reliably.
*deep breath*
Bring on 2021.